Campervan Hire France
When hiring a campervan from France you can enjoy superb rates and availability with some of the most popular fleet of campervans & motorhome rentals from over 25 locations in France.
Touring France by Campervan
Located in Western Europe, France is home to nearly 65 million people and has a landmass of 640,427 square kilometres, and is often referred to as the "Gateway to Western Europe". Campervan Hire in France is very popular due to the climate and access to many other european contries such as Italy and Spain.
More about France

Known for its stunning scenery and delicious cuisine, France has a longstanding reputation for being one of the most idyllic countries to visit in Europe. Blessed with an abundance of nature and rolling countryside, France is the perfect destination for a campervan holiday. One of the main advantages of campervan hire in France is that you can enjoy the freedom of exploring the off beaten tracks. Spend your days discovering historic villages, hidden beaches and breathtaking vineyards.
Due to its rich history, colourful culture and fine cuisine – France is a country that everyone should visit at least once in their life. With so much to do and see, a motorhome is undoubtedly the best way to explore the diverse and fascinating country. Before booking your motorhome with Compare and Choose, there are a few factors you will need to consider. Such as time of year, the rules of the road and camping locations.
Hidden Treasures of France
Situated in the centre of France, Loire Valley, also known as the "cradle of the French", is the perfect destination to get lost in the countries stunning countryside. A trip here can be spent strolling through picturesque fruit orchards, discovering majestic castles or exploring the stunning vineyards. The central part of the valley has been listed as a UNESCO World Heritage Site and boasts a plethora of welcoming campsites. Nestled along the Loire, there's plenty of places to park your campervan overnight.
Nestled in between the south of France and Italy, Provence spans over the Mediterranean Sea coast up to the lower Rhône River in the west. Once inhabited by Ligures, Celts, Romans, and later the French kings. This historic region boasts an unforgettable backdrop of breath-taking lavender fields which stretch across the horizon.
Drive to the west of the country, where the Atlantic coast will welcome you with golden beaches. Days here can be sent soaking up the sun or riding the waves. This stretch of coast is surfer's paradise with its maritime climate controlled by warm summers and mild winters. The plethora of campsites on the western coast make it even easier to travel at your own pace.
Public Holidays in France
Travelling over public holidays is a great way to experience a different culture. Whilst the UK and France share many holidays, such as Christmas and New Year, the way they are celebrated will differ. You will need to plan your itinerary around any national holidays that are due to occur on your French road trip, as they may affect attraction opening hours and transportation schedules.
New Year's Day – January 1st
Much like the UK, celebrations begin with a party on New Year's Eve, where it's traditional to kiss under the mistletoe at the stroke of midnight. Many cities and communities will organise parades and firework displays on the 31st, to welcome the New Year with a bang! New Year's Day is typically more relaxed, where the French will enjoy a family feast together to recover from the night before.
If you are travelling in France over New Year, it's only polite to learn the correct greetings, which include:
I wish you a happy new year = "Je te/vous souhaite une joyeuse année".
Happy New Year! = "Bonne année".
May all your wishes come true in 2023 = "Que tous tes/vos voeux (veu) se réalisent en 2023".
Happy New Year and good health for 2023 = "Bonne année et bonne santé pour 2023".
Easter Monday – date varies
The religious holiday, known as Lundi de Pâques, is celebrated as a national holiday in France. You could visit the village of Bessières, in the South West, who commemorate the day by preparing a giant omelette, using 15,000 eggs in a four-meter-wide pan. Or, you could enjoy the colourful atmosphere of the Cargèse parade on the beautiful island of Corsica.
Labour Day – May 1st
May Day, or 'La Fête du Muguet, La Fête du Travai' is reserved as a 'day of action'. The public holiday sees trade unions come together to organise marches and demonstrations to campaign for workers' rights and social issues. If your travels in France fall on May 1st, you may find that the parades cause disruptions to traffic in city centres, so you'll need to plan your route accordingly.
Ascension Day – date varies
Ascension Day is another religious holiday that falls 40 days after Easter Monday. It is a quiet holiday in France, with most people taking the day to spend time with their families. Restaurants and small businesses outside of tourist areas may be closed on Ascension Day and public transport schedules will vary depending on your location.
Victory Day – May 8th
Another fairly quiet public holiday in France is Victory Day (la fête de la victoire, le jour de la liberation), the anniversary of when Charles de Gaulle announced the end of World War 2. Cities are decorated with the French flag to honour war veterans. Many people will attend dedicated parades and church services in memory of those who were lost. The day does not tend to cause disruption to transportation, although smaller businesses may be closed in rural areas.
Whit Sunday & Monday – date varies
Whit Sunday and Monday are religious holidays in France, which see most businesses close-down. Villages and small towns often host sporting and cultural events that may interrupt traffic, however city roads will remain open.
Bastille Day – July 14th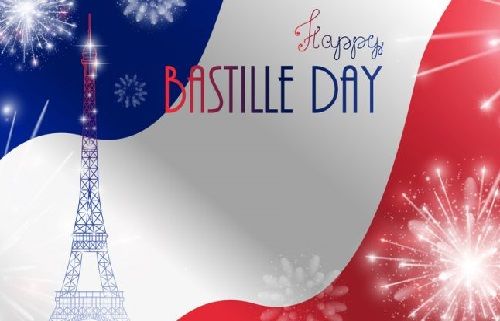 Locally known as "la fête du 14-Juillet", this national French holiday commemorates the French revolution and subsequent storming of the Bastille fortress. If you find yourself in Paris, you can enjoy the lively atmosphere at the annual Bastille Day parade, where thousands of people gather to watch the troops march through the city and the military aircraft's fly overhead.
As night falls, you can watch the spectacular firework display that illuminates the Eiffel Tower at the Champ de Mars. Each year has a different theme and the display is accompanied by a classical music performance from France's National Orchestra and the Radio France Choir. If you're in the South, then head to Marseille, where over 10,000 rockets light up the sky at the Old Port on the Mediterranean Sea.
Assumption Day – August 15th
This religious public holiday marks the end of France's long summer holiday. Whilst most people will simply take this as a day off to spend with family, others may choose to attend dedicated church services. Generally, administration businesses will be closed, but most restaurants and shops will remain open and there is little disruption to traffic.
All Saints Day – November 1st
Celebrations for All Saints Day begin on the evening of the 31st October – Halloween. It is an annual holiday that French natives use to commemorate their dead. Whilst it's not traditionally French, a trip to Disneyland Paris is a must during this time, especially if you are travelling with children. The Park comes alive with spooky Mickey shaped Jack-o-lanterns, Disney villain encounters and dedicated performances and parades.
Armistice Day – November 11th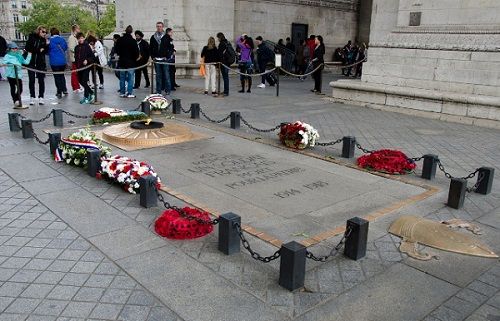 Similarly to Victory Day in May, Armistice Day is a public holiday used as a tribute to those who died in World War 1. History buffs may be interested to visit Paris to see the Tomb of the Unknown Soldier, where the body of an unrecognised soldier was buried at the base of the Arc de Triomphe.
Christmas Day – December 25th
Like most Christian countries, France pretty much comes to a standstill on Christmas day as families gather to exchange gifts and spend some quality time together. If you're in France between November 24th and December 30th, then a trip to Strasbourg, in the North East, is essential. Here, you will find "Christkindelsmarik", one of Europe's biggest Christmas markets.
With over 300 unique stalls, you can enjoy everything from traditional bredele cakes to a moreish cup of hot wine, flavoured with festive cinnamon. The huge Christmas Tree, breathtaking illuminations and classic wooden chalets bring festive cheer throughout the city every year.
French Road Trip Itineraries
Cross France off your bucket list and explore some of the world's most renowned architecture, lavish cultures and beautiful scenery using our itinerary samples to guide your route.
1. The Ultimate Wine Tour
Travel the six Bordeaux Wine routes and enjoy the beautiful scenery deep within the French countryside. Cycle between the vines and experience some of the best wines in the world on this sought-after itinerary.
Arrive in Bordeaux (30-minute drive)
After picking up your campervan from Bordeaux airport, you'll want to head straight to the town centre. As a world heritage site, the city is decorated with a unique combination of classical and neo-classical architecture and urban developments. Immerse yourself in "wine culture" with a visit to the Cite du Vin, which explores the history of world wines through a variety of innovative instillations.
Whilst Bordeaux has a selection of decedent galleries and museums to explore, the real appeal is in the city itself which is best enjoyed at a leisurely pace.
Bordeaux to Sauternes (51-minute drive)
Less than an hour drive from Bordeaux you'll stumble upon Sauternes, a sleepy village surrounded by enchanting vineyards and famous for its sweet white wines. A visit to La Maison Du Vigneron is essential. As sixth generation wine producers, the owners pioneer the wine tourism industry and offer a second-to-none tasting experience.
Sauternes to Entre-Deux-Mers (43-minute drive)
Translating to "between two seas", the aptly named Entre-deux-Mers is nestled between the river Garonne and the river Dordogne. Stretching far from the West of the city all the way across to the Eastern region of Bergerac, Entre-deux-Mers dominates the Bordeaux wine route. Rolling hills, small valleys and picturesque meadows make up the landscape and vineyards grow as far as the eye can see.
Entre-Deux-Mers to Medoc (20-minute drive)
North of Bordeaux, the Medoc is home to some of the most prestigious wine villages, producing some of the finest wines in the world, such as Margaux and Chateay Lafite-Rothschild. Medoc has more to explore than vineyards, as it is home to over 100km of sandy beaches, so you can enjoy the vino, followed by a stroll along the seaside.
Medoc to Saint Emilion (56-minute drive)
Arguably even more beautiful than Bordeaux, Saint Emilion offers stunning scenery, fine wines and delicious cuisine. As a UNESCO world heritage site since 1999, the medieval town is full of history. An underground town tour is essential if you want to uncover the ancient secrets of this small town, plus a climb to the top of the Bell Tower will give you panoramic views of the surrounding hills. Saint Emilion is also a short 10-15 minute drive from other wine-growing communes, including Pomerol, Fronsac and Libourne.
Saint Emilion to Blaye (58-minute drive)
Another ancient city with a vast history dating back to the Roman era, Blaye is most famous for its citadel. Burned down by the English in 1352, the citadel has since been restored to its former glory so visitors can take a walk around the fortress walls, whilst enjoying the serene atmosphere and lush landscapes.
Blaye to Bourg (18-minute drive)
A short 20-minute drive from Blaye and you will stumble upon Bourg, a picturesque town settled on the banks of the Dordogne. Here you will find a citadel castle, the infamous horse-drawn carriage museum and formal gardens complete with a terrace, overlooking the town and surrounding landscapes.
Bourg to Bordeaux (49-minute drive)
Just like that you're French vineyard tour is over and its back to Bordeaux for your flight home.
2. The A-Listers Tour
Experience the luxury of Frances South coast with this indulgent travel itinerary.
Arrive in Nice
Unofficially labelled as the capital of the French Riviera, Nice is famous for its beautiful beaches and beaming sunshine. Castel Plague, a private beach, is perhaps the most beautiful, with its soft white sands and clear blue waters, it's a must visit for sun-seekers. For fantastic views of the Nice Bay take a trip to the ruins of Chateau du Nice, followed by a tour of the beautiful gardens that surround the citadel. This picture-perfect viewpoint will be the awe of your holiday snaps!
Work up a sweat and burn off that lavish French cuisine by excursing to Parc du Mont Boron, where you can choose from seven miles of rural hiking trails. Take the strenuous path up to the summit of Mont Bront for yet more spectacular views, or climb Mont Alban to explore the ruins of a military fort.
Nice to Monaco (30-minute drive)
Home to A-list events like the Monaco Grand Prix, this independent city-state on France's Mediterranean coastline oozes opulence and elegance. Ogle the yacht-lined harbor and if you are feeling lucky, take a gamble at one of the many upscale casinos. Visit Monte Carlo and dine at the Café de Paris, an Art-Nouveau brasserie style lunch spot, featuring an informal casino and a terrace lined with slot machines.
Monaco to Villefranche-sur-Mer (33-minute drive)
Dubbed as one of the most beautiful bays in the world, Villefranche is a classic fishing village within the French Riviera. The old town has a unique charm, with a colourful flush of architecture tumbling down the hillside right the way down to the sea front.
Villefranche-sur-Mer to Cannes (1 hour 5 minute drive)
Holiday destination to the stars, Cannes is famed for the iconic Cannes film festival. Taking place each May, the festival attracts world-renowned celebs who flourish in the glitz and glamour of the annual red-carpet event. Behind the wealth and opulence, Cannes is home to winding lanes; ancient buildings and an old harbour filled with both traditional fishing boats and luxury super-yachts.
Cannes to Saint Tropez (1hour 32minute drive)
The final A-list destination is Saint-Tropez; another fishing village turned celeb hot spot. Here, you'll find all the essentials of a millionaire's vacation destination, including beautiful beaches, fancy boutiques, exquisite cuisine and lively nightclubs.
Despite the culture of wealth, Saint-Tropez still holds its peaceful allure, with narrow streets, family-owned restaurants and the quaint harbour decorated with rustic wooden masts. Make your life easier and book your return flight from La Mole Airport, which is a mere 15km from the centre of Saint Tropez.
3. From Paris with Love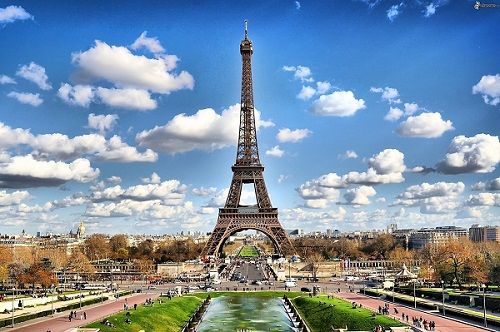 Explore beautiful Paris and beyond on this Northern self-drive adventure.
Arrive in Paris
There's certainly no shortage of things to see and do in the French capital, spend a couple of days exploring the city before renting a campervan to see you through the rest of your trip. Set some time aside for sightseeing, visit the Arc-de-Triomphe, enjoy the glittering lights on the Eiffel Tower at night, and admire the architecture at the Notre-Dame Cathedral.
If you're travelling with children, or even if you just want to free your inner child, then a trip to Disneyland Paris is essential. Thrill seekers can enjoy the rides, whilst Disney lovers will adore the magic of the late night firework display and parade. For some grown-up entertainment, visit the Moulin Rouge for dinner and a show. This exciting 19th century style cabaret sees dancers perform in elaborate consumes that makes for a vibrant evening with an unforgettable atmosphere.
Paris to Reims (1 hour 49 minute drive)
Located in North East France, Reims is renowned as the champagne capital of the world. Explore one of the many champagne houses, tour the wine cellars and clench your thirst with a glass of the infamous fizz. Later on, explore French history with a visit to the grand Reims cathedral, where 1000 years of French monarchy were crowned.
Reims to Normandy (4 hour 30 minute drive)
Normandy is dotted with lush meadows; farmland and a coast lined with low dunes and chalk cliffs. It's a picturesque location with a dark history and home to a host of fascinating museums and memorials.
Normandy to Palace of Versailles (2 hour 22 minute drive)
Heading back towards Paris, a trip to the Palace of Versailles is a must. This world heritage site is a feat of 17th century architecture. Once home to King Louis X111, the palace is a grand display spread over a massive 63,154m2 and simply must be seen to be believed. Explore the estate with a guided tour of the regal interior and adorning gardens.
Driving in France: Rules and Regulations
Learning the rules of the road is essential when you're driving in France. Failure to do so could not only result in penalties, or legal action, but is extremely unsafe for you, your passengers and other drivers. Here are some of the rules and regulations you should abide by on your French road trip:
Foreign Licences
EU drivers are permitted to use their own driving licence. Other nationalities can use their home licence for one year, providing they have a translation, or international driving permit. All drivers must be at least 18 years old.
Do not use your mobile phone, or hands free system when driving
Mobile phone use, including hands free systems, Bluetooth and wired headsets, is banned in France. If you are caught using a mobile phone behind the wheel you are likely to receive an on-the-spot fine of €135 and suspension of your licence as of 2018. You are permitted to make calls if the vehicle has a voice activated system (entirely hands free) that does not require headphones.
Speeding in France
There are over 150 unmarked police vehicles with on board speed cameras patrolling both motorways and minor roads in France. If you are caught driving over 140 Km/h over a 130 stretch of motorway you are likely to receive a ticket and on-the-spot fine.
Drinking and driving in France
The blood alcohol limit in France is 0.5mg per 100ml (it's 0.8mg per ml in the UK), therefore it is not worth risking one drink if you are the designated driver. You are also required, by law, to carry a breathalyser with you in the car. These are available from most supermarkets, drugstores and petrol stations for about €1.
Driving with Children in France
Children under the age of ten are not allowed to travel in the passenger seat of the car, unless the car does not have backseats. Children should be seated in the back with an appropriate car seat or booster seat. Babies may travel in the front passenger seat, providing they are sat in a rear-facing baby seat and the airbag is deactivated. Seatbelts should be worn by all passengers at all times, regardless of their position in the vehicle.
Speed Limits in France
Unless stated otherwise, the speed limit in built up areas is 50 km/h
As of 1st July 2018, the speed limit on main roads, outside built up areas is 80 km/h.
The speed limit on a dual carriageway is 110 km/h.
The speed limit on a motorway is 130 km/h. This falls to 110 km/h in rain, or adverse weather conditions whereby visibility is limited.
Environmental zones
Paris are currently running a scheme to reduce air pollution whereby all vehicles must display a sticker that clarifies its carbon emissions. If you are caught without this sticker you can expect to receive a fine between €68 - €135. Full details on this new regulation can be found here.
French Road signs
Unfortunately, road signs are not universal and France has its own unique symbols that could confuse foreign drivers. We recommend that you familiarise yourself with the road signs before your trip, to ensure that your travels are as safe and stress-free as possible. Here are some of the signs you should look out for:
| Road Sign | Description |
| --- | --- |
| | Fortunately, the French "STOP" sign is self-explanatory. Drivers should come to a complete stop upon this sign and should proceed with caution, only when the road ahead is clear. |
| | Junction in the road ahead, meaning you do not have the right of way. In French, this rule is referred to as "priorite a droite". |
| | Junction in the road ahead, however this sign indicates that it is your right of way. |
| | Traffic sign indicating that this is a 'priority road'. You have the right of way, though you should proceed cautiously. |
| | The priority road has come to an end and you must now give way to oncoming traffic, applying the "priority to the right" rule. |
| | Upcoming roundabout. Entering drivers must give way to the left. |
| | "Give way" sign. Usually displayed in advance of a "STOP" sign with distance quoted. |
| | The driver turning right has priority. |
Driving in France: Toll Roads
Unlike the UK, French motorways have many tollgates. If you're ignorant to this, the cost of travel can quickly stack up. There are routes you can take to avoid the toll's, but this could rack up the mileage, so your best bet is to factor the cost of tolls into your travel budget.
The cost of the toll is dependent upon the auto-route you take, the duration of time you spend on that route and the vehicle you drive. Large vehicles, like campervans are more expensive than cars and towing caravan also incurs an added fee.
Here are the estimated costings for some of the main roads:
| Route | Fee with car | Fee with Caravan or Van |
| --- | --- | --- |
| Le Havre to Paris | €19.70 | €33.60 |
| Paris to Strasbourg | €38.00 | €57.80 |
| Calais to Reims | €22.20 | €32.60 |
| Reims to Chamonix | €55.60 | €85.20 |
| Bordeaux to Toulouse | €18.30 | €29.20 |
| The bridge from La Rochelle to Ile de Re | €16.00 | €27.00 |
General Tips for driving in France
Whilst the following rules aren't the law, we recommend following these tips to ensure your French road trip runs smoothly!
If you can avoid it, don't drive in Paris. If the traffic isn't enough to put you off, finding and paying for parking will.
As well as researching the road signs, it's a good idea to learn some basic French road terms before your trip as this will help ensure you drive safely. E.g. Cadez le passage = give way.
If you're driving in the winter months carry snow chains as the weather can be unpredictable.
Give yourself plenty of time to get from A to B, when you're travelling on foreign roads it's easy to get lost.
Take regular breaks from driving, up to one in four motorway accidents happen because of fatigue.
Sports
France is associated with numerous sporting events including, tennis, cycling, rugby union and most famously football.
Football
With over 18,000 registered clubs, football is undoubtedly one of the most popular sports in France. Home to one of the most successful teams in the world "Les Bleus", has not only won the FIFA World Cup (1998), came second place in the FIFA World Cup (2006) but they have also won two UEFA European Championships (1984 and 2000).
France has also produced many football icons and record holders such as Zinedine Zidane who was awarded the FIFA World Player of the year three times. As well Thierry Henry and Just Fontaine who hold records such as the most goals scored in a national team and goals scored in a world cup.
Whether you've got your sights on Caen, Paris and Lille in the North, or Lyon, Marseille and Nice in the South, France is the perfect destination for football lovers!
Tour de France
Tour de France is one the largest sporting events in the world. The bicycle race has been established since 1993 and is a multi-stage race which changes location each year. However, the course always passes through the Alps and the grand finish on the Champs-Élysées in Paris.
If you're planning to catch some of the action, be sure to research the route to find the piece you'd most like to watch. France motorhome renters and owners are a common sight at the annual event - be sure to get a rental locked in quick.
Rugby
If you love rugby, then France is the place to be. The French also love rugby have participated in every world cup as well as the annual Six Nations Championships. Drive along to Toulouse and gaze in awe at peaking rugby posts that litter the picturesque streets. The south-west of France is rugby's Gallic heart – and yet no one knows how it first started. There are 170 clubs in the South of France and 34,000 registered players meaning you're never too far from a game or two.
Some of our favourite motorhome camping spots
L'ile des Trois Rois
This ten-hectare campsite is only an hour's journey from Paris, nicely sandwiched between the Seine river and the historic Château Gaillard. With over one-hundred pitches and a huge variety of on-site activities, it's not hard to stay entertained: you can you can spend the day cycling, golfing, horse riding, fishing, swimming and hiking, then get back to your campervan with some takeaway food or head to the site's bar for a drink.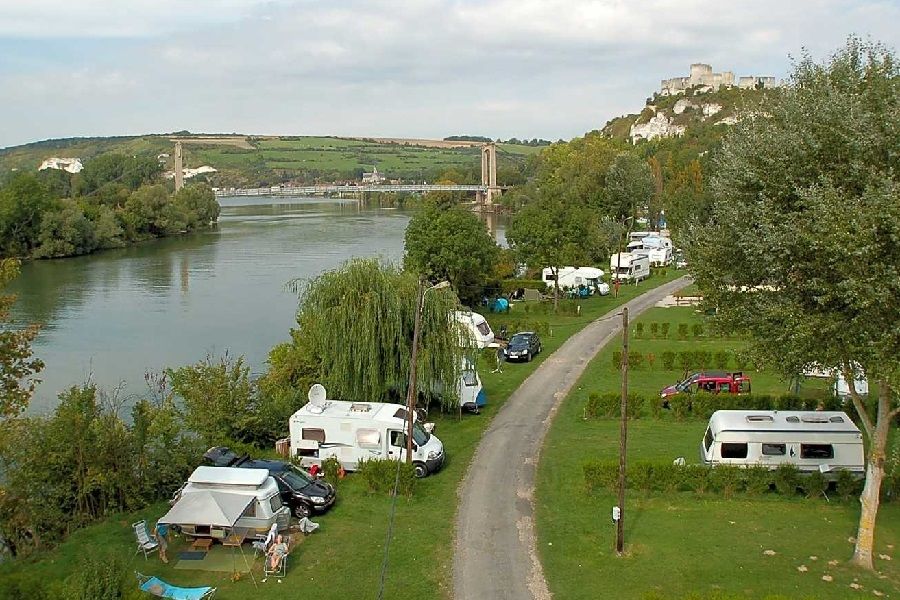 If you're bringing children, they'll get plenty of entertainment from the on-site pool and playground, as well as the huge amount of open space for them to explore on foot or cycle around. Pets are allowed anywhere on the site, so dogs don't need to spend the whole trip leashed to a pole or locked in your caravan. As a nature-focused site, L'ile des Trois Rois has a reduced water and energy consumption policy, but you'll still have readily available Wi-Fi and satellite TV, along with some pitch having a built-in electricity supply to keep your devices charged during your stay.
Tourists who don't own a campervan won't need to worry: L'ile des Trois Rois offers a variety of mobile homes and tents in their own booking packages, including some specially designed for disabled holidaymakers. They also offer special deals for couples, and sometimes add optional free days to bookings that start on certain dates.
Its position next to the Seine makes it an excellent place for nature lovers, since very few other campsites in the country have such a prime spot for animal and plant life. Catch-and-release fishing can be a popular way to pass the time, as can sitting and watching the barges travel up and down the river or having a picnic on the bank. Dedicated walkers could even follow the riverbank straight into Paris if they're looking for a long, easy walk with a high chance of getting a lift back to the site.
Getting to L'ile des Trois Rois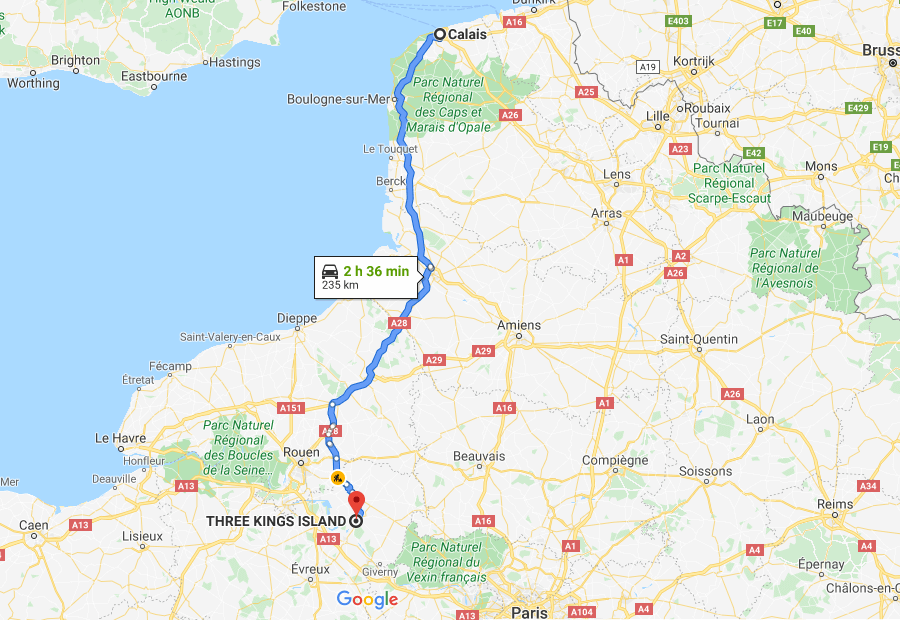 Travelling from Calais to L'ile des Trois Rois takes just over 2 hours and 30 minutes.
You can pitch your motorhome with a comfort package which includes facilities + electricity. This will cost you around 145 euros for one week in May. The address is 1 RUE GILLES NICOLE, 27700 LES ANDELYS, CAMPSITE NORMANDY. Visit the website https://en.camping-troisrois.com/. Telephone number: 00 33 (0)2 32 54 23 79. Email: campingtroisrois@aol.com.
Yelloh! Village La Plage
Located right next door to one of southern Finistère's nicest beaches, Yelloh! Village La Plage is a four-star campsite that tries to offer a luxury experience: every guest is given an 80m2 pitch with a 10-amp electrical supply. Outside of your tent or campervan, you'll be able to visit the wellness area for the sauna or a detox session, get your children involved in the various clubs the site runs or visit the giant pool for a swim.
The location of this site is excellent for hiking, putting you in the middle of three different seaside towns and a wealth of hiking routes further inland. The area also has plenty of historic buildings and fishing villages that still have a traditional side to them. However, the site itself keeps modern convenience on hand at all times with a food store that stocks large amounts of basic food items, as well as important toiletries and beach equipment.
Yelloh! allows children and pets, as well as providing wheelchair access to as many of the site's features as possible. It has a permanent 600m2 water park only 50m from the beach, a consistent range of ocean water sports, a gym, mini-golf and kart races, among more extreme activities like horse riding and a treetop trail. The site also provides a bike hire service for longer trips through the countryside, with weekly hires available for committed cyclists.
If you need a break from the water sports and hiking activities on offer, the site also has its own library for you to borrow books, and a tourist information point to show you where the quietest reading areas are. The snack bar can provide anything from full pizzas to bite-sized meals, so you won't end up hungry if you forgot to pack enough snack food.
Les Dômes de Miage
Les Dômes de Miage is a nature-focused campsite that trades on-site entertainment for a heavy focus on the natural world. There's plenty of space for walking and hiking, even if you bring pets, and the site has a dedicated play area for any children who prefer to exercise at their own pace. Thanks to the free Wi-Fi and accessible electricity supply, it can also be a haven for bloggers and freelance workers who need some time out of the house.
The nearby village of St. Gervais offers structured activities, like a spa, and a selection of "extreme" activities like paragliding and mountain biking. There's also Chamonix, which is slightly farther away but offers a very similar set of activities, as well as it's famous skiing slopes and trails. Professional hikers could even attempt to climb the surrounding mountains, including Le Prarion, Mont Vorassay and Mont Joly, or take a walk near the nature reserves further north.
Unlike quite a few camping sites, there's plenty of space between each caravan or tent, giving you plenty of space to cook outdoors or ride bikes without getting in the way of other guests. There are plenty of bicycle routes in the area, and the abundant dirt paths can be explored either on foot or on wheels, with no dedicated routes or plans to stop you from taking a detour in whichever way you want.
If you came from (or are planning to head to) Switzerland during your trip, Les Dômes de Miage is one of the most convenient stops to make along the way, with Geneva only 80km away and easily within reach by even the slowest campervans. If you want to take a detour, Lake Annecy is fairly close too and can make for a nice day trip if you don't need to be elsewhere until later in the day.
L'Océano d'Or
Taking up eight hectares of land, L'Océano d'Or is a very activity-focused camping site that makes family entertainment a propriety. The site has over 400 pitches, with some being roughly 100m2 and coming with their own supply of electricity. To keep things a bit more private, many of the pitches have hedges or other borders between them, but you're free to explore the entire site as you see fit.
There's a wide range of activities on offer, with the most obvious draw being a gigantic swimming pool. The indoor heated pool means that you can still swim during colder weather, whereas the smaller pool gives parents a place to let their younger children paddle in safety. Back on dry land, there's table tennis, bowls, multi-sport courts and playing fields, tennis and a full-sized children's playground to keep everybody active during their stay. On top of that, there's also an indoor gym and arcade room on-site.
In terms of food, the site runs a bar and snack/equipment store, as well as rentable gas barbeques for cooking outdoors. Laundry is available every day and ironing is completely free, as is the campsite-wide Wi-Fi connection. The town of Jard-sur-Mer itself has an abundance of restaurants and shops to browse through, as well as the weekly market that attracts plenty of tourists every month. If you can't find certain business, the site is handily only one turn away from the town's Tourist Information Centre.
The site is only a short drive from the ocean and not that far from the Le Château des Aventuriers family theme park, making it an excellent spot for groups that want to explore the local attractions and see more of the area. However, there's still plenty to do within the campsite itself, so it's an excellent destination for nearly any kind of traveller.
Le Chateau des Marais
The Chateau des Marais site is fairly large, with over 100 touring pitches and full access to water and electricity. Unlike a lot of camping sites, it has its own tourism office that can manage bookings for attractions and services elsewhere in the area. If you don't have a tent or campervan of your own, there's a variety of premade accommodation on offer, including 2-3-bedroom mobile homes and tents that are fully equipped with kitchens and beds.
Dogs are allowed, but not on certain on-site accommodation, and they have to be leashed at all times with a limit of two per visiting group. Disabled guests can get into most of the major areas of the site, including the pool, and shouldn't have any issues navigating its layout or leaving to explore Muides-sur-Loire. Children are allowed and fully accommodated for, meaning that they can get involved in many of the activities on offer.
In terms of attractions, Chateau des Marais boasts an excellent swimming pool with slides, flumes and a relaxing "lazy river" ride. There's also multiple sport-specific pitches and courts for games like badminton and volleyball, as well as less competitive games like crazy golf and karting. There are 4 playground areas for younger children as well as occasional pony rides, whereas adults can spend their spare time fishing and cycling. The site staff try to keep most of these activities open and available all year round.
The site has its own restaurant, takeaway and pizzeria, all of which have different menus on offer, as well as a bar and an on-site supermarket. Everything you'd need to clean your clothes is readily available to all guests, as well as baby changing facilities, showers and dishwashers. Outside of the site, there's a variety of places to eat and buy food, such as a local butcher's shop, a pharmacy and a winery.