Campervan Hire in Spain

When hiring a campervan from Spain, with Compare and Choose you can enjoy superb rates and availability with some of the most popular fleet of campervans & motorhome rentals in Spain. There are many things to do.
More about Spain
Consuming just over 500,000 square kilometres Spain is the fifth largest country in Europe with a population of over 47 million people. Spains mainland is bordered to the south and east by the Mediterranean Sea except for a tiny boundary with Gibraltar. France, Andorra, and the Bay of Biscay border with Spain to the north and north east. Portugal and the Atlantic Ocean to the west and northwest.
With its 1,214 kilometre border with Portugal, Spain has the longest uninterrupted border within the European Union. Madrid is the capital city of Spain and is home 6.5 million people where you will find lots of places to visit when you rent a campervan in any of our campervan rental locations.
Three exclaves in North Africa, Ceuta, Melilla, and Penon de Velez de la Gomera that border Morocco, the Canary Islands in the Atlantic Ocean off the African coast, The Balearic Islands in the Mediterranean, and the islands and rocks of Alboran, Chafarinas, Alhucemas, and Perejil all make up what is known as the Spanish Territories.
Top Spanish Cities
When tourist rent a campervan in Spain, the top cities visited are Valencia, Bilbao, Madrid, Barcelona, Toledo, Cordoba San Sebastian, Seville, Granada and Ibiza.
Popular Attractions & Activities
When it comes to activities, by far the best thing to do in Spain is eat Tapas, eat Tapas and eat Tapas! But in all seriousness, it also provides a massive array of activities.
Some of the must see attractions would have to be, Alhambra in Granada, Ski the Sierra Nevada Mountains, See Gaudis architecture in Barcelona, Walk along Las Ramblas, party hard in Ibiza, La Tomatina in Bunol, Rastro in Madrid, The Guggenheim Museum in Bilbao, The Benicassim Festival and the ever popular running with the bulls in Pamplona. Spain is such a great place to tour around in your hired campervan
Visit The Caminito Del Rey
What can we say about The Caminito Del Rey, it takes your breath away when you walk along the famous walkway. They have renewed this walkway in 2015 and it is very safe compared to the old walkway. You will enjoy the amazing views through the deep canyons as the eagles soar above.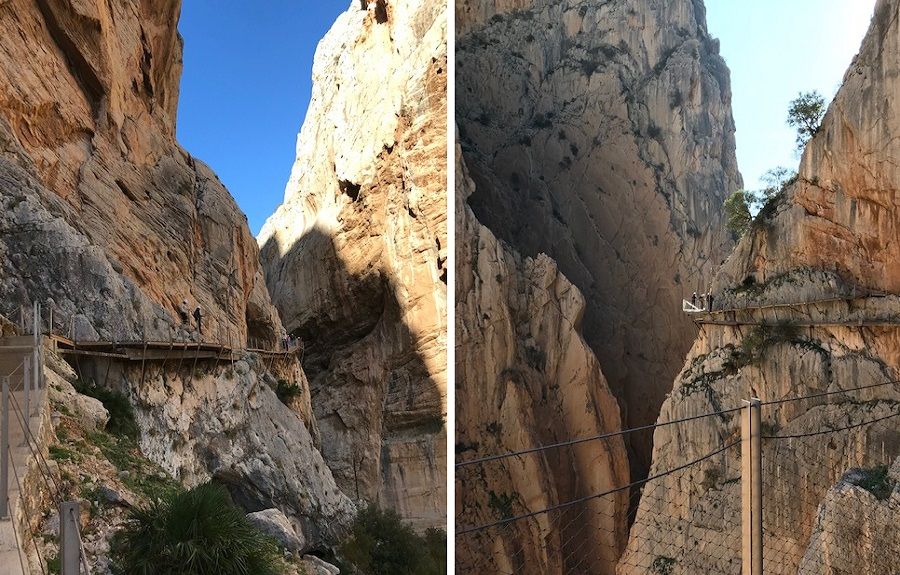 Getting to The Caminito Del Rey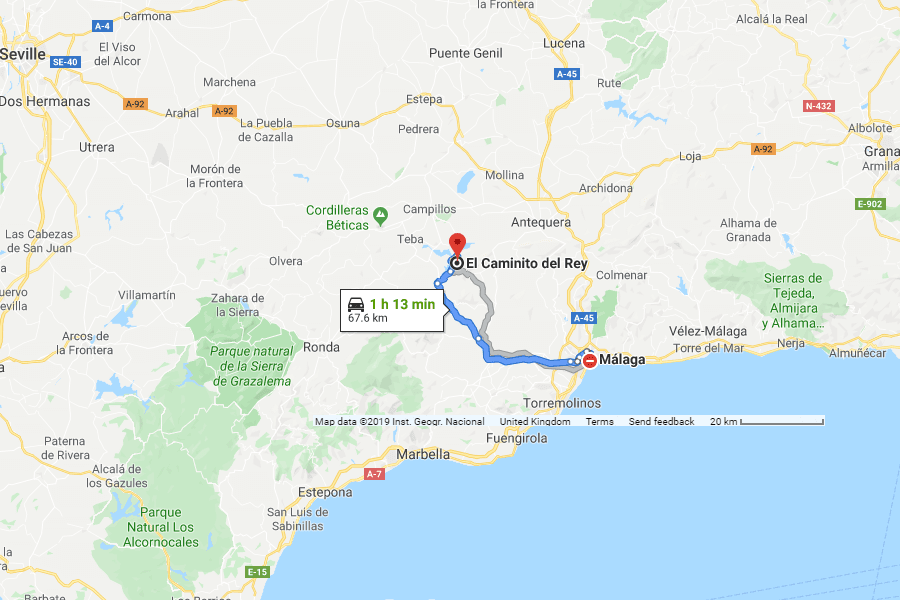 Travelling from Malaga takes around 1 hour and 15 minutes. As you get closer to the Caminito Del Rey it is surrounded by mountains and lakes, it really is a beautiful place to see and you definately have to add this to your bucket list.
The nearest campsite we could find to pitch your motorhome is the PARQUE ARDALES which is located at Camping Parque, Ardales, Málaga, Spain. Telephone number: +34 951 26 49 24. You can stay for around 20 Euros per night in your motorhome.
Ronda is a great place to see
Ronda is a stunning city on top of a deep gorge, the views are amazing and the city itsself is a beautiful place to visit.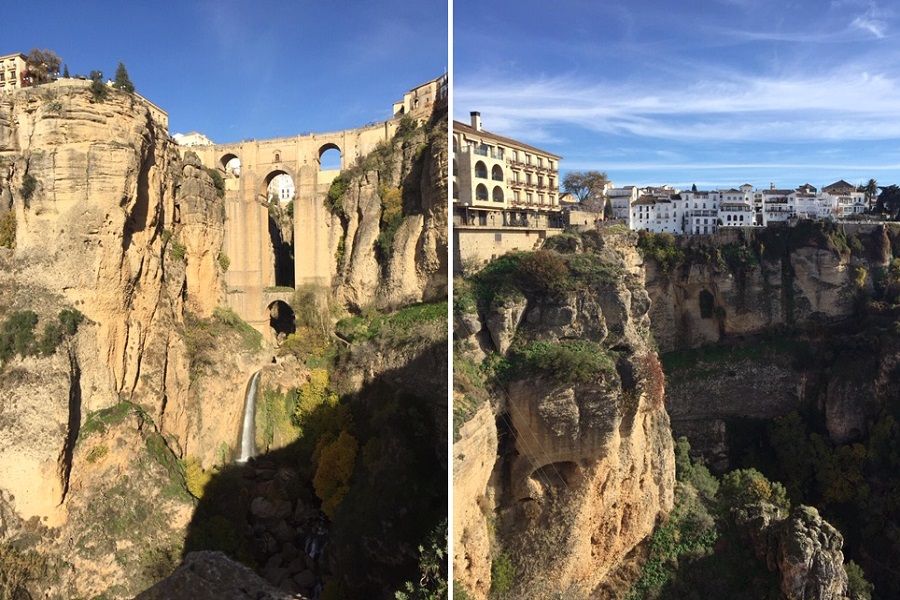 Getting to Ronda from Malaga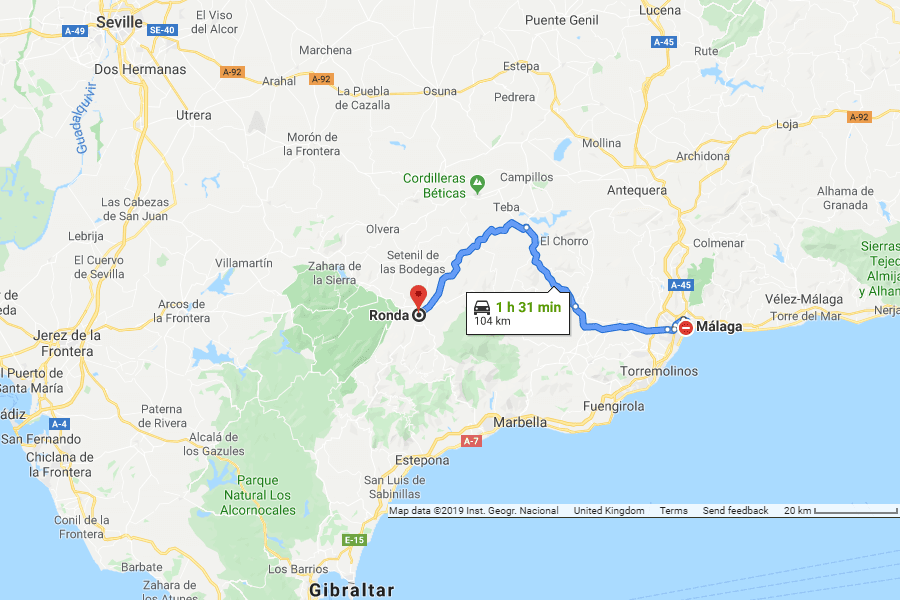 If your travelling from Malaga it is around 1 hour and 30 minutes drive and the scenery is out of this world. You will see many Orange tree plantations on your way sometimes as far as you can see.
Tips on driving a campervan in Spain
| | Spanish Tips |
| --- | --- |
| 1; | Make sure you take plenty euro coins with you as parking is quite expensive especially in the bigger cities. |
| 2: | Some towns have very narrow roads, sometimes there is not enough room to get a car through nevermind a motorhome, so be careful, take your time and make sure you do not get stuck or worse damage the campervan. |
| 3: | The weather is generally beautiful but it can take a turn for the worste so ensure you are prepared, in summertime make sure you have plenty of drinking water and sun cream. |
| 4: | Driving is on the opposite side to the UK so make sure you know your road signs, you will also need a high visibility top and a warning triangular sign incase of breakdown, the police can give on the spot fines if you cannot show you have them. |