Campervan Rentals from Devonport Ferry Terminal

You can book a campervan from this location by using our simple comparison service to get the best deals on your RV rentals. Tasmania is a wonderful place to visit and we are confident you will have a great road trip in your motorhome.
Where is Devonport Ferry Terminal
The Devonport Ferry Terminal is located on the Esplanade in East Devonport, Tasmania.
The Devonport Ferry Terminal address is: East Devonport TAS 7310
The telephone number is: 1800 634 906
From Devonport Airport
A: Take Airport Rd to Pardoe Rd/C701. Approximately 2 minutes (600m)

1: Head east on Airport Rd. – (81m)
2: Turn right towards Airport Rd. – (30m)
3: Turn right towards Airport Rd. - (82m)
4: Continue onto Airport Rd. – (400m

B: Take Port Sorell Rd/B74 and Torquay Rd to Wright St in East Devonport. Approximately 7 minutes (6.1 km)

5: Turn right onto Pardoe Rd/C701. – (1.4 km)
6: At the roundabout, take the 2nd exit onto Port Sorell Rd/B74. – (1.8 km)
7: At the roundabout, take the 3rd exit onto Piping Ln. – (550m)
8: Continue onto Torquay Rd. – (2.4 km)

C: Drive to your destination. Approximately 1 minute (850m)

9: Turn right onto Wright St. – (220m)
10: Take the next left and your destination will be on the right. – (600m))
The Devonport Ferry Crossing
Home of the Spirit of Tasmania ferry line, who facilitate the transfer of both passengers and vehicles from the Australian mainland to Tasmania across the Bass Strait.
The Spirit of Tasmania Ferry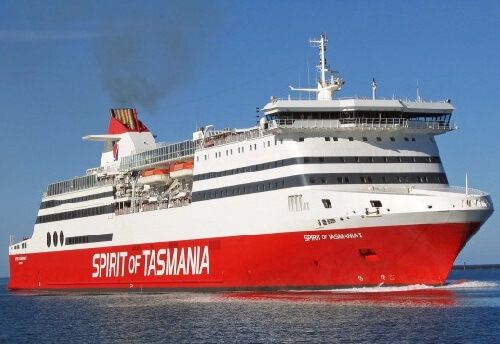 You are able to cross from Melbourne to Tasmania by ferry and take your motorhome with you. Make sure you book early as there is only 1 ferry route between Australia and Tasmania which is operated by only 1 ferry company.
Ferry Times
The ferry crossing takes around 10 hours and 30 minutes, this can be subject to change during weather conditions
Ferry Cabins
There are various ferry cabins available to suit your needs. All cabins come standard with
Air-conditioning with remote control
Wall-mounted reading lights
A desk and a chair
A wall mirror
Hanging space
Power point
Please Note: Bedding, towels and soap are provided within the price of the cabins.
Deluxe Cabin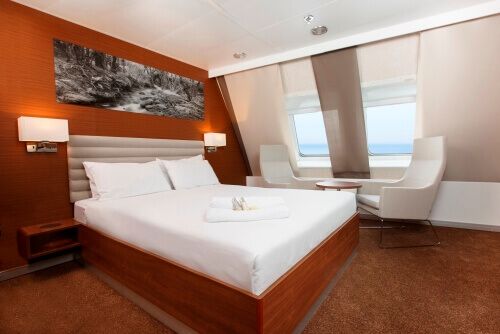 You can sail in luxury with the deluxe cabin which are located at the front of the ship where you can enjoy some amazing views from the porthole windows the deluxe cabins are able to host two adults. They have slightly more than the other cabins which include:
Bedside tables including bedside lamps
A window side table including two chairs
Bathrobes, these are only for use onboard
Amenity pack which included shampoos and various lotions
All the Spirit Of Tasmania's cabins have recently been refurbished and feature some great colour schemes and furnishings.
The Deluxe, 2 bed Porthole Private Cabin and 4 Bed Private Cabins all come with the optional availablity to incluse Cots. If you are looking to book an infant then a cot will be placed in your room free of charge, subject to availability.
2 Bed Porthole Private Cabin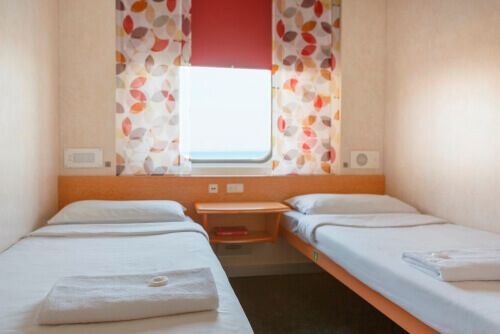 The 2 bed porthole private cabin lets you head across the Bass Strait in comfort, allowing you to relax in style
4 Bed Porthole Private Cabin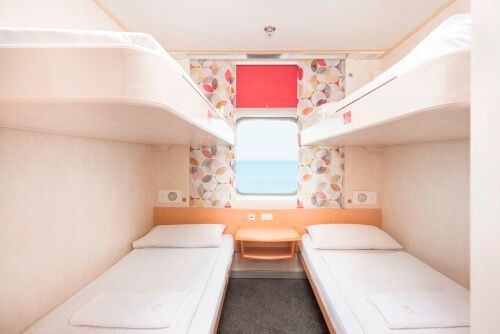 The 4 bedroomed option allows you to relax in the same way you would in the 2 bedder but gives you the option to fit 4 people
4 Bed Inside Private Cabin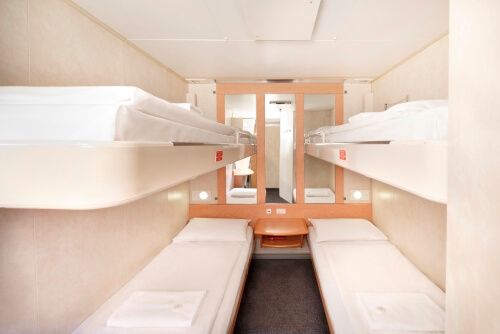 The Four Bed Inside Private Cabins are ideal for a family or if you choose a group of friends.
Female Shared Cabin 2 Share and 4 Sharing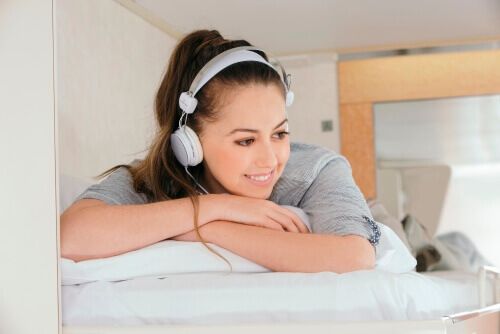 You have the choice of accomodation up to 4 female passengers or choose to travel solo its your choice.
Male Shared Cabin 2 Share and 4 Sharing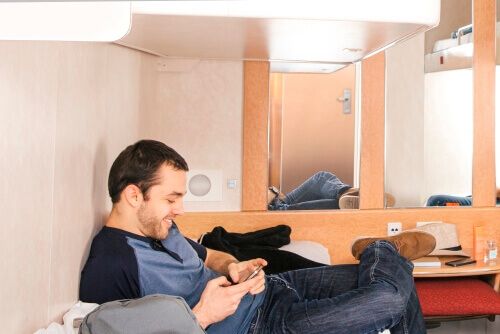 You have the choice of accomodation up to 4 male passengers or choose to travel solo its your choice. Whatever your budget.